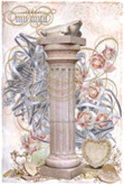 DEVOTIONALS
Solo Show Catalog Introduction
Martin Art Gallery
Baker Center for the Arts
Muhlenberg College
January 15 - March 24, 2019
by Paul M. Nicholson
Director, Martin Art Gallery
Tucker creates richly layered digital collages that explore the seductive visual aspects of consumer culture. Her works are meticulously constructed from her scans and photographs which are cropped and pasted layer by layer resulting in a sort of dystopian ecclesiastical propaganda. With dark humor, her antiquarian arrangements possess a frenetic maximalist aesthetic of a religious mail order catalog.
The exhibition is comprised of sixteen photographs across two related bodies of work. This includes ten of her "Postulates," facing off against six of her new "Devotionals," all focusing on various disposable and consumable products organized into ornate pictorial arrangements. Her most recent works are larger in scale and dive further into tropes and classical beauty, with stone figures contrasted by faux marble consumer goods. Replete with flowers, her kitsch inclusions expose the conventions of religious iconography resulting in what can only be described as absurdist artifact.
Hundreds of interwoven images with broadly even lighting result in a flatness that preserves its foundation in the visual language of advertising. Each otherworldly image is printed on metallic chromogenic paper, and seems to create an alternate cultural universe where the fetishization of the past is the cultural capital of the future.